The KY AT Locator is a great resource for finding much-needed Assistive Technology (AT) and Durable Medical Equipment (DME) available to borrow (try-before-you-buy), or receive refurbished AT/DME at no (or low) cost.
There are over 9,000 items on the AT Locator (9,707 at the time of this article), and it is always growing.
Visit the KY AT Locator Database
As a user of AT, or if you are supporting a family member or patient who uses AT, this can be quite intimidating at first glance. You may be asking yourself, "How am I ever going to be able to find an item I need?", or "Where do I even start?"
The tips presented in this series of articles will help you to get the most out of your experience when using the site. If you find that you still have questions, you can always call us (toll-free: 800-327-5287), or contact the nearest KATS Network Regional AT Resource Center if you ever need assistance. We are always a phone call away.
This article will cover how to register for an account and how to search for items (Basic and Advanced Searches). We will release new articles in this series on a bi-weekly basis, so be sure to check back for more.
Registering for an account.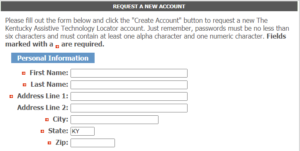 You will have the best experience on the site as a registered user. Registering for an account allows you to bookmark items so you can return to them later, request items to borrow from our Lending Library, or request items to acquire free from our reuse program (Project CARAT), and track your existing loans, and view past loans. You can also list AT/DME items that you own, but no longer have a need for, to sell, or donate to someone else. You can also place a want ad for items that you are in need of. Those last two processes will be covered in a future article covering our AT/DME reuse program, Project CARAT.

After submitting your request, you will see the following message on the screen: "NOTICE! Thank you for requesting a Kentucky Assistive Technology Locator user account. You will receive an email message in a few minutes with an authentication link to complete the activation process. Your account will not be active until you click on the authentication link in the email."
Activate your account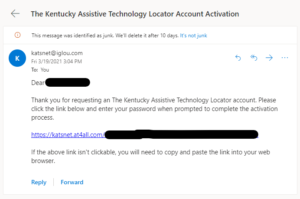 Please do not forget this crucial step in the activation process. You will not be able to begin using your account until you click the activation link in the email. Under normal circumstances, you should receive the email within 1-3 minutes. If you do not receive the email, be sure to check your email Spam (or Junk) folder(s). Chances are it will be there.
Searching the Database
The search bar allows users to enter keywords and phrases to begin searching for equipment. After entering keywords/phrases, users can further filter results by selecting a category from the drop-down menu adjacent to the "Start Here" search field. Users can also select "Advanced Search," which will load additional search filters, which include Programs, Classifications, and Types of Equipment.
Basic Search

You can initiate a basic search (sometimes referred to as a Simple Search) by typing in your search term from the search bar. You can also select a category (optional) to help narrow your results. After entering your search term, press the "Search" button.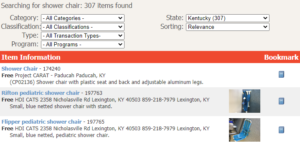 Your list of results will appear on the next screen. There will be several options (drop-downs) above the results to help you in narrowing your results.
The example in the screenshot presented here has us searching for a "shower chair". It is important to note that the search will identify all matches of the phrase "shower chair" as well as all instances of the words "shower" and "chair". The database searches both the Item Name field and the Item Description field of the database. The results are in order of relevance with those matching the exact phrase "shower chair" first, followed by those matching only the word "shower" and lastly those matching the word "chair". It is also important to note that searches for "shower chair" (two words) and "showerchair" (two words) will yield different results. At the time of this article, searching "shower chair" (two words) returned 307 results; searching "showerchair" (one word) returned zero results.
Advanced Searches
Narrowing down your results after performing a Basic Search
After performing your basic search above, you have several options available to you to help in narrowing down your list of results. The two that I want to focus on here are "Type" and "Program"; however, they all work in the same manner.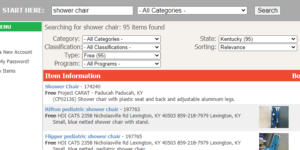 Let us assume that you have searched for a shower chair and you want to filter your results to only those available for Free/Giveaway. From the drop-down list labeled as "Type", you have five options: Demo, Free, Loan, Sale, and Wanted. Each option will have a number in parenthesis representing the number of results falling under that option. For our search, you will notice that selecting "Free" yields us 95 results from our original list of 307.
Within these results, I see several variations matching the words "shower" and "chair". Looking at the first page of results alone, there are eight variations of shower chairs, stools, benches, and seats. Of those results, some have a back, some have arms, and some are simply a bench with no back or arms. Your specific need will vary based on your situation, so it is important to read the Item Details for each result and refer to the pictures (if provided) to ensure the items will meet your need. The remaining results include other (peripheral) items that may be of interest to you, including a Shower/Commode Back Rest, Grab Bars and a Transfer Bench. It is important to look through the remaining results, as there may be items included there that you were not initially considering or had not thought of.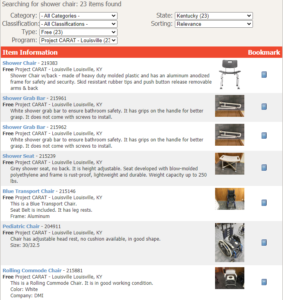 You can further narrow your list of results by selecting a Center/Location from the "Program" drop-down. You can acquire your item(s) from 23 potential locations. As with selecting "Type", you will see a number in parenthesis next to each option representing the number of results. For our example, I will select "Project CARAT – Louisville", which has 23 results. With these results, I see one shower chair with a back, and a shower bench (no back). As before, there are also items like Grab Bars and a Commode Chair that may also benefit you and your specific need.
Initiating an Advanced Search from the Search Bar

From the homepage, you can initiate an advanced search by selecting "Advanced Search" from the Search Bar. Here you will have three additional searching options, "Programs", "Classification", and "Location". It is important to note that you must select your options BEFORE entering your search term. The "Search Term" field is a dynamic field in that your results will start populating as soon as you move the cursor out of the field. Once you select your categories and enter a search term, your results will load on the next page. From there you can further refine your results as normal.
Item Details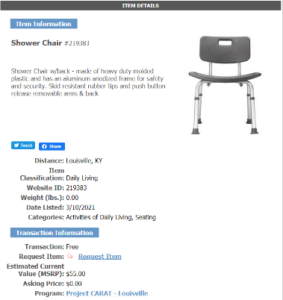 Clicking on an item takes you to the Item Details Page. This page gives you additional information on the item including specifications (such as weight/height requirements, number, and type of batteries, dimensions, special instructions, etc. You can also see the value (MSRP) of the item if bought new, a link to the manufactures website for more information, user guides, etc. You can also submit a request for the item from this page.
Summary
Register for an account to bookmark searches, request items you need, list items you no longer need for sale or give away, place want ads for items you need.
When searching, check the results for peripheral items that may also benefit you.
Use the advanced search features to narrow your results by location, transaction type, category, etc.
Make sure you read the Item Details page to view images and key specs of the item(s) you are interested in.
Conclusion
Following these simple steps will empower you to be a more efficient user of the AT Locator. As mentioned in the opening, we are always a call away if you need guidance along the way.
Up Next
The next article in this series will cover Bookmarking Items and Submitting Item Requests.