You put a lot of effort into making sure your slideshows, webpages, forms, documents, and more are visually appealing and presentable, but can everyone access them?
Thursday, May 19, 2022 is Global Accessibility Awareness Day (GAAD)! The purpose of GAAD is to get everyone talking, thinking, and learning about digital access and inclusion. There are more than one billion people worldwide with disabilities/impairments.
In Kentucky alone, there are more than 874,000 Kentuckians who identify as having one or more disability that interferes with activities of daily living, including access to Information and Communication Technology (ICT).
According to the World Wide Web Consortium (W3C):

The Web is an increasingly important resource in many aspects of life: education, employment, government, commerce, health care, recreation, and more. It is essential that the Web be accessible in order to provide equal access and equal opportunity to people with diverse abilities. Access to information and communications technologies, including the Web, is defined as a basic human right in the United Nations.
Where do I Start?
Start small!
We understand that learning about accessibility can be a daunting task. But if we all commit to making small changes starting today, it will have a huge, lasting impact.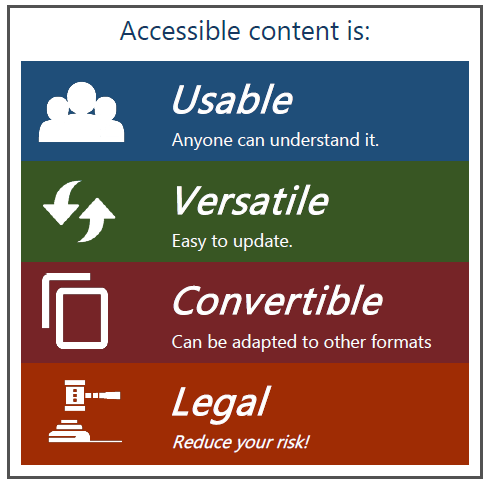 As part of our work, we all use Microsoft Office (Word, Excel, PowerPoint, Outlook, etc.) every day. The KATS Network offers a handy Accessibility Quick Tips resource for making your Word, Outlook, PowerPoint, PDF (and more) documents more accessible. The concepts presented here are universal and can be carried over to almost any document format.
Start with an Accessibility First mindset.
Get in the habit of thinking and saying, "Accessibility at the end is not a thing". Accessible design is less about removing barriers, and more about not building barriers in the first place. There is no magic button you can press at the end that will make your content accessible right before it is released to the world.
Think about and address accessibility at the beginning and all throughout your project. Waiting until the end to address accessibility is the hard way, the expensive way, the time-consuming way. And often, it can be too late to address certain issues. The cake is already baked, you can't go back in and add ingredients.
If you wait to the end, after you have gone through all of the other layers of approvals necessary (Executive Leadership, Legal, Committees, etc.), then the changes necessary to achieve accessibility can sometimes be difficult, if not impossible, to make.
Thinking about every aspect, from the fonts you use, your color pallet, and the ease of reading (i.e., Plain Language, that everyone can understand) are all decisions that need to be made AND tested up front.
Manual, Automated and User Testing
Testing for accessibility should include a combination of both manual and automated testing to achieve compliance to the recognized accessibility standards for the format(s) you are using (i.e., WCAG 2.1 for web content, or PDF/UA 1.0 for PDF documents).
Automated checking tools are a great way to get started but should never be wholly relied on. You still need to do manual remediation and testing of the document by someone who understands assistive technology and how it interacts with electronic content.
We all experience and interact with the world in different ways. Having a diverse group of users testing your documents ("Nothing about Us, Without Us") ensures that you are considering the user-experience up-front.
Designing for accessibility covers a wide range of users, with and without disabilities. Accessibility benefits everyone by making your documents and their contents easier to find, read, understand, and interact with.
Take the No Mouse Challenge!
Up for a challenge? Go mouse-less for 10 minutes! Spend at least 10 minutes doing your job without using your mouse. Many disabled users (particularly people with visual impairments, hand-eye coordination issues, mobility impairments in their hands or arms or repetitive strain injury) do not use a mouse. We understand that it will be challenging, so we'll get you started with some helpful tips for navigating without your mouse.
Learn more about the No Mouse Challenge
How to navigate web pages without a mouse
Below are some quick tips to get you started, you can find more in the "Accessibility Quick Tips" resource from the KATS Network referenced above.
Use the tab key to tab through links and other interactive elements on the page
Use Shift + Tab to move backwards
Press Enter to follow links, submit forms, etc.
Use the Space Bar to interact with checkboxes
Use the Arrow Keys to select items from drop down menus (combo boxes)
As you take on the No Mouse Challenge, take note of any difficulties you run into trying to access links, buttons, etc.
While you're navigating, things to look out for include:
Is the focus around any element you can tab to visible, so you know where you are?
Do things like drop down menus and search boxes, or any other functionality within the page, work just with the keyboard?
Do you get stuck anywhere, unable to go backwards or forwards (known as a 'keyboard trap')?
Which pages did you visit? How did you find it? Were there any problems?
What is the takeaway?
If a document, application, or system cannot support mouseless operation, it will not support assistive technology or accessibility tools.
Utilize the expertise of the OVR Accessibility Coordinator
Did you know that our agency has its own in-house Subject Matter Expert on accessibility? Jimmy Brown, Accessibility Coordinator, Assistive Technology (AT) Branch, is certified as a Trusted Tester for Web Accessibility from the U.S. Department of Homeland Security (DHS), Office of Accessible Systems and Technology (OAST). Prior to this, Jimmy worked for the KATS Network for 15 years as the Accessibility Coordinator, and later the Program Coordinator. While at KATS, he provided Technical Assistance to agencies and private businesses throughout the Commonwealth on creating and maintaining accessible ICT.
If you have questions about accessibility, need a document checked, or need an accessible document template, send an email to OVRAccessibility@ky.gov and the Accessibility Coordinator will be happy to assist you.
In the coming months, we will be scheduling training sessions for staff to learn more about how make their documents, emails, and presentations more accessible.
As we are all employees of the Office of Vocational Rehabilitation, let's not forget who our target audience is. Are we creating barriers that are keeping people from accessing or fully participating in our services (or even working for our Agency)?
Next Steps
Make sure all your documents are formatted for accessibility (such as using Styles in Word)
Include keyboard shortcuts when giving/writing instructions
If you oversee procurements, require vendors to incorporate accessibility in their deliverables.
(Did you know Kentucky enacted the Accessible Information Technology (AIT) Law (KRS 61.980 to 61.988) in 2000 that requires all contracts to include a Technology Access Clause when procuring IT hardware/software
Talk about accessibility with your co-workers.
If you don't know if something is accessible, ask. If you know something is not accessible, ask for it to be made accessible
GAAD Events and Activities
The following FREE events and activities are being offered to celebrate and support Global Accessibility Awareness Day.
Virtual Accessibility Awareness Lab (Virtual)
18 May 2022 | 2:00 PM-3:00 PM ET
In celebration of this year's Global Accessibility Awareness Day (GAAD), Deque is offering a free virtual Accessibility Awareness Lab on Wednesday, May 18th from 2:00 to 3:00 PM ET. Attendees will develop insight, empathy, understanding and inspiration to work in new, more accessible ways.
Learn more about Virtual Accessibility Awareness Lab by Deque
---
Diversability Unplugged: Disability and Digital Accessibility (Virtual)
18 May 2022 | 7:00 PM-8:30 PM ET
Join us on Wednesday, May 18, from 7 pm – 8:30 pm ET for Diversability Unplugged: Disability and Digital Accessibility, in partnership with Fable. We will have another powerhouse panel discussion centered around lived experience, advocacy and careers available in the accessibility space. Our panel includes: Dona Sarkar, Director of Tech, Microsoft Mark Mcguire, Digital Accessibility Consultant Sheri Byrne-Haber, Senior Staff, Accessibility Architect Samuel Proulx, Accessibility Evang., Fable
Learn more about Diversability Unplugged: Disability and Digital Accessibility by Diversability
---
You Can't Do It Alone: Building Accessible Products is a Team Sport (Virtual)
19 May 2022 | 02:00 PM-02:45 PM EDT
Everyone involved in bringing a product to life has a role to play in making it accessible. Adding accessibility practices can seem daunting, but it doesn't have to be if you make it a team sport. This webinar is for Product Managers, UXRs, Design Managers, and Developers who want to learn more about incorporating accessibility. Understanding the goals and responsibilities of each role is crucial for effective collaboration. Register today!
Learn more about You Can't Do It Alone: Building Accessible Products is a Team Sport by AnswerLab
---
Accessibility and Usability: Working Together to Make Things Better (Virtual)
19 May 2022 | 11:00 AM-11:45 AM EDT
Anthro-Tech's Digital Accessibility Specialists, Beth Somerfield, CPWA, and Andrew Skinner will talk about how successful digital services let people connect with organizations in a confident and efficient way. Digital products and services must be easy for people to understand and make it difficult for them to make errors. When accessibility and usability work hand-in-hand, customers have a better experience.
Learn more about Accessibility and Usability: Working Together to Make Things Better by Anthro-Tech
---
Cognitive Accessibility Beyond the Alt Tags, with an Interactive Exercise (Virtual)
19 May 2022 | 12:30 PM-02:30 PM EDT
This presentation focuses on commonly overlooked cognitive accessibility issues, which affect nearly 20% of people. It includes an interactive exercise using practical solutions for improving UI for cognitive accessibility. Join Zoom Meeting https://softrams.zoom.us/j/95640720396?pwd=TTB5ckxyMEJWM2kwRWlUY3JMeDFSUT09 Meeting ID: 956 4072 0396 Passcode: 123321
Learn more about Cognitive Accessibility Beyond the Alt Tags, with an Interactive Exercise by Softrams
---
Basic Accessibility Fundamentals Bootcamp (Virtual)
19 May 2022 | 12:30 PM-02:30 PM EDT
In celebration of this year's Global Accessibility Awareness Day (GAAD), Deque is offering its Accessibility Fundamentals Bootcamp training for free. Join this live training on Thursday, May 19th from 12:30 to 2:30 PM ET.
Learn more about Basic Accessibility Fundamentals Bootcamp by Deque
---
Moving Towards Universal Accessibility (Virtual)
19 May 2022 | 02:30 PM-04:00 PM EDT
Join us as we delve deeper into our journey of accessibility and the significance of creating inclusive digital content. Our goal is to breakdown the complexity regarding accessibility by sharing our personal journey of how we enable inclusive content on our websites, mobile apps and other digital channels which support federal and private clients alike. We will have a three-person panel who are experts in accessibility and will be available for a live Q&A session as well. https://softrams.com/
Learn more about Moving Towards Universal Accessibility by Softrams